Colored Pencils Lesson: How to Color
Colored pencils: Key features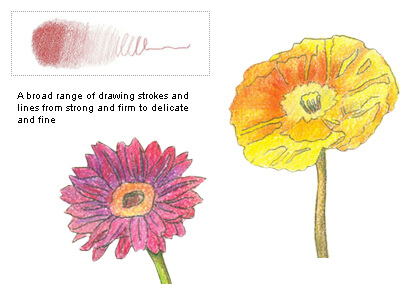 ◆A broad range of drawing strokes and lines from strong and firm to delicate and fine.
◆Vivid and beautiful color mixes are created by repeatedly drawing in lines.
◆Simple and convenient: no need of brushes or palettes.
◆The secret of coloring with these colored pencils is to apply many thin and pale layers of color by gently stroking the picture surface with no excess force; this will gradually deepen the color.
How to Color "Roses"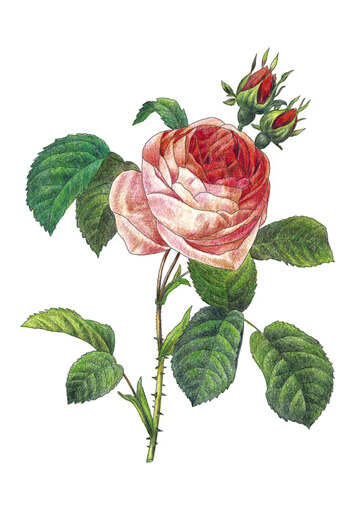 Rose centifolia
Roses are appreciated for their fragrance and many petals; by carefully coloring each petal, their many soft layers are gracefully depicted.
To give deep shading and a good finish, apply the base layers.
A sketch taken from "Nuri-e" published by Kawade Shobo Shinsha is used as an example.
Medium: Colored pencils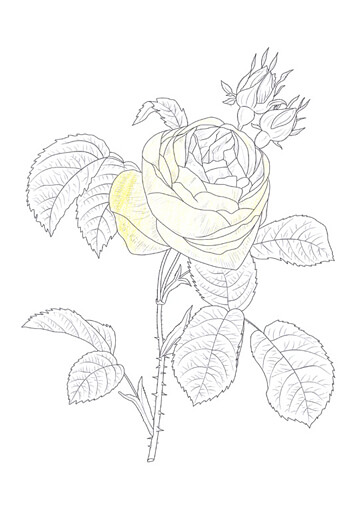 1

The flower outer part: base layers

Broadly divide the flower into its inner and outer parts. Use a pale yellowish color to apply the base layers to the outer part of the flower.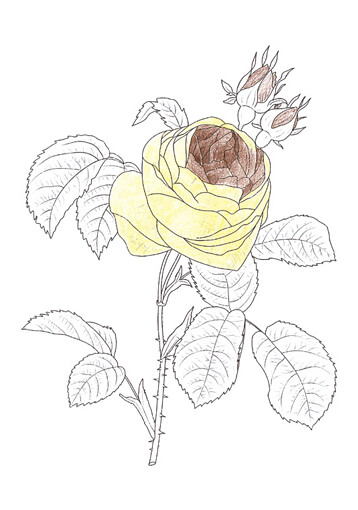 2

The flower inner part: base layers

Apply brownish base layers to the inner part of the flower, and repeat for the base layers of the buds. These deep and dark brown base layer colors give a feeling of weight and density to the buds in the finished work.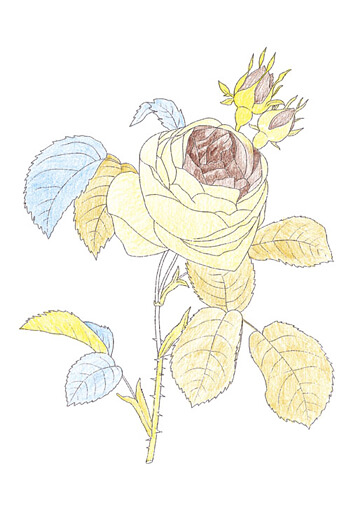 3

The leaves: base layers

The base layer technique for the leaves is similar to that of the flower; divide the leaves into deep shade and pale shade areas, and use different colors for each. For deep shaded leaf parts, apply ocher.
For middle deep shaded leaf parts, apply bluish colors. For brighter leaf parts, apply yellowish colors.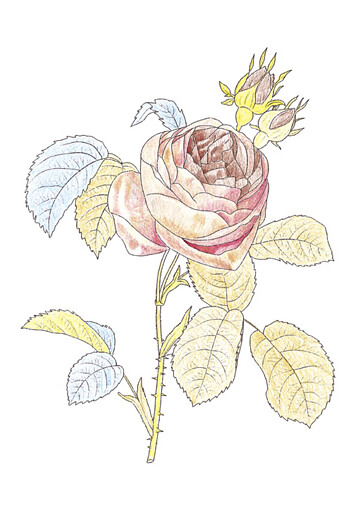 4

Adding layers of color to the flower outer part

Start with pale pink and gradually darken to deeper pink by adding layers of color.
Do not limit yourself to using only warm colors, such as pinks, oranges, reds, or browns. By including blues, greens, or other cold colors or complement colors in some parts, you can surprise yourself with unexpected results.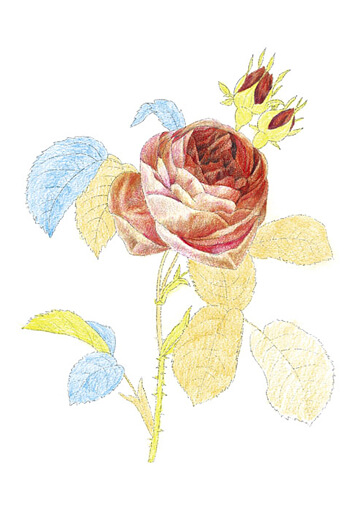 5

Adding layers of color to the flower inner part

For the dark inner part of the flower, start with reds or oranges, and keep changing colors and adding layers of color; at the darkest shadow section, use a deep somber red and dark brown. The secret of how to use colors is to start from pale and bright colors and keep coloring toward the deeper and darker colors. If you use deep and dark colors from the beginning, your results are less likely to be successful.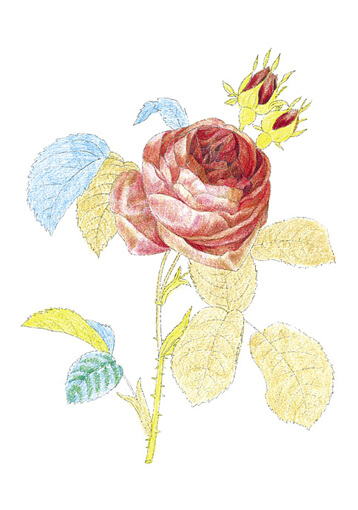 6

How to color the leaves

To ensure a good finish, pay attention to shading the leaf veins. Apply dark greens to the shady areas of the veins, and light greens to the bright areas.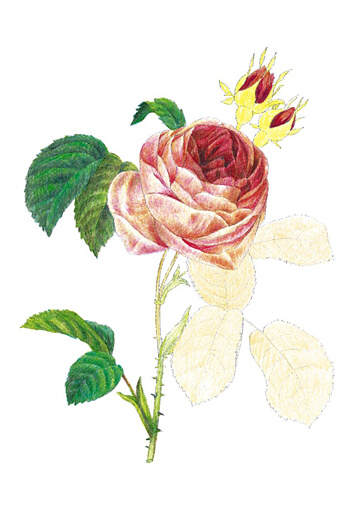 7

Adding layers of color to the leaves

To those parts where yellowish, ocher, or bluish colors were separately applied as base layers, now add layers of local green colors.
Since base layers have already been applied, color variations will be seen in many of the leaves, resulting in each leaf having depth and its own unique feel.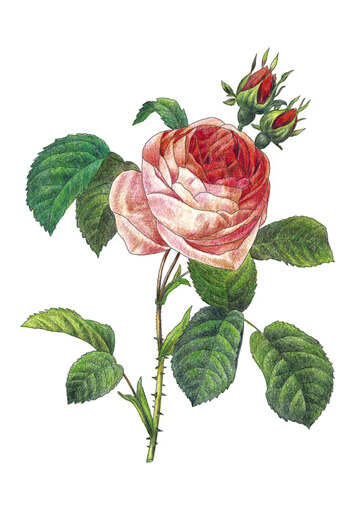 8

Finishing

Thanks to the base layers, the corolla will show a 3-D effect and the tone variation and good depth of each leaf will also be expressed.